Big Heat
We're Kind Of A Big Deal In Warehouses
For warehouses and distribution centers, the winter months can present an array of challenges.
Warehouses can easily be separated into different heating zones based on temperature needs. Not all areas of the building require the same heating requirements, especially in areas that are automated or unoccupied for periods of time.
By installing King Electric Warehouse Heaters in each zone, you can easily heat only the areas in use and conserve energy.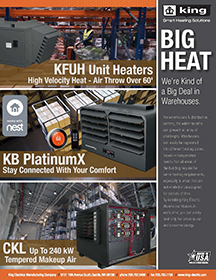 High Ceilings. No Problem.
King's KFUH, high velocity unit heater is perfectly suited for high ceiling applications such as warehouses, with an air throw of over 6- feet.  The 3-speed, high-capacity motor and blower quietly delivers large volumes of air ranging from 775 to 1540 CFM minimum.
And with welded mounting channels on the unit, the KFUH can be mounted at any angle, for either vertical or horizontal applications.
Energy-Saving Technology
KB PlatinumX Includes It All. Offering an in-built electronic thermostat for accuracy and remote control for simple operation, as well as an integrated summer fan only mode and thermostat timer mode, the KB PlatinumX has you covered.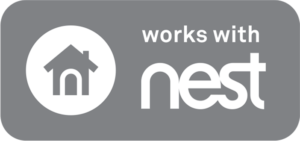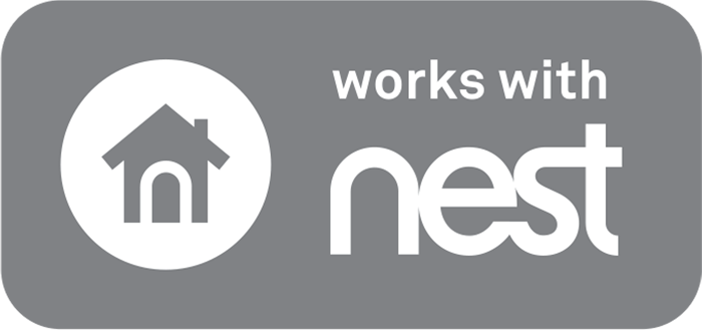 KB PlatinumX comes standard with a provision for adding an optional 24V thermostat, so setting up a Nest WiFi thermostat or any 24V WiFi thermostat is simple and easy.
Up To 240kW of Heated Makeup Air
For the largest spaces, nothing is bigger than CKL. King's CKL Plenum Rated Unit Heaters are built to withstand harsh environments and can even be installed in inaccessible areas such as between a concrete ceiling and a drop tile ceiling, in a open plenum or ducted system.  For the largest spaces imaginable, CKL bring BIG HEAT up to 240kW.