Frequently Asked Questions
Installation
Tips: Selecting The Proper Unit Heater
The most common error of unit heater selection is installing a unit designed for low ceiling application on a high ceiling. In this application heat is unable to circulate properly to the floor – the result: unsatisfactory comfort or performance level.
For more tips visit here
Can I Use Multiple Heaters With Just One Thermostat?
The short answer is YES, you can wire multiple heaters to one thermostat, but it depends on several factors to ensure your circuit can handle the load.
See full Tech Article for more detailed info.
IMPORTANT: The number of heaters you can connect to one thermostat depends on your circuit size and wiring
If I need to replace my heater, can I use a higher wattage heater?
Your electrical system was sized for the original heater's wattage. A smaller heater would be OK, but a larger heater may create a hazard.
Why does my new heater produce smoke when I turn it on?
In the manufacturing process, a light lubricant is used, which will burn when the heater is energized. The smoke will stop after the heater has fully heated. There is no cause for alarm. It is recommended to open a window during initial operations.
My thermostat is above my fan-heater. Why?
The fan heater blows warm air away from itself and into the room. By the time the warm air has recirculated and reached the thermostat above the heater, a comfortable room temperature has been achieved.
My baseboards are on outside walls, should fan heaters be also?
No. A fan heater, recessed into an outside wall, will create extra heat loss and air leakage for that room. An inside wall, facing a cold window, is the best location.
How do I determine my supply voltage?
You must use a voltmeter.
Please note: Testing with a voltmeter requires the circuit panel or fuse box to remain on. If you're unfamiliar or uncomfortable with electrical wiring, please contact a qualified technician or licensed electrician.
What Circuit and Wire Size do I need?
The chart below will help you determine fuse or breaker size and the necessary wire size to
service various wattage loads. To protect against material failures, the National Electric Code
requires that most materials be de-rated 20%. This means that only an 80% load factor may be
used when figuring electrical material needs and is already calculated in the chart.
Visit our How to Size the Heater circuit page for more info by clicking HERE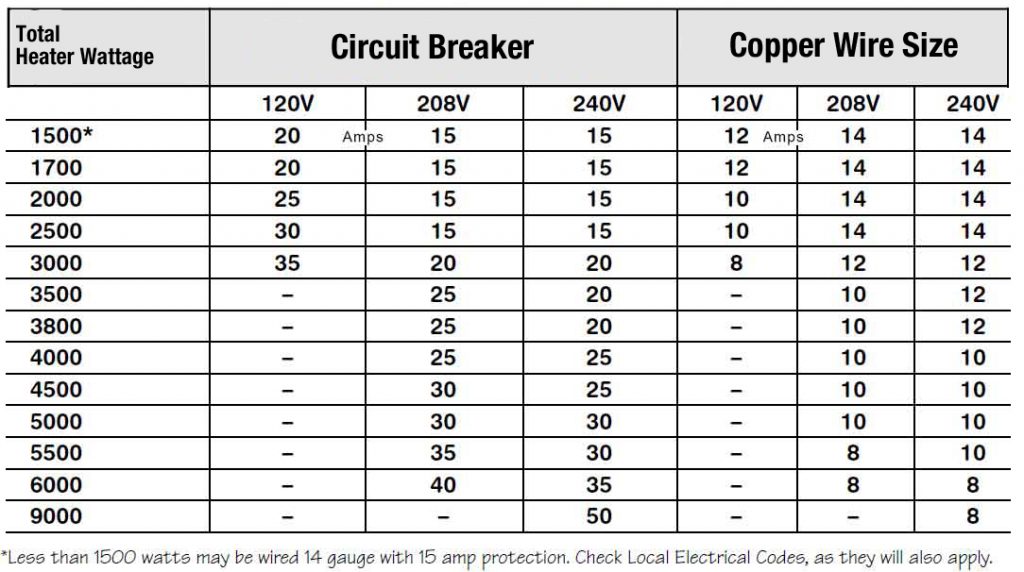 How do I clean my heater and how often?
We recommend cleaning your electric heater at least twice per year. Depending on where you live, you may want to clean it more often, especially if you have pets or have other conditions where excessive dirt and dust might get into your heater.
What tools are required?
Safety glasses
Dust mask
Drop cloth
Voltage detector
Phillips and Flat Head screw drivers
Small container
Bucket of soapy water and wash cloth
Air compressor or vacuum with blower option
Steps For Cleaning
1: Turn off any circuits that correspond with your heaters
Tech Tip: Once the breaker is turned off, it is important that you test the circuit with your voltage detector to ensure power has been completely turned off to your heater.
2: Remove the grill
Tech Tip: If you have a thermostat on your heater, be sure to remove the knob first very carefully with your flat head screwdriver. Take your time with this. We get a lot of calls from customers who try and force the knob off quickly or who have removed the grill without first removing the knob. This will damage the thermostat, which you will have to replace or possibly you will have to replace the whole heater.
3: Blow out the heater
Tech Tip: If you do not have an air compressor or a vacuum with a blower, a good old fashioned hair dryer will do the trick. But, do NOT use canned air. This is a potentially serious safety hazard because many of these products contain a flammable propellant. Regardless of the blower you use, be sure to keep the fan blades from spinning around while blowing out the dust, this can damage the motor.
4: Clean the grill
Tech Tip: Put the grill into a bucket of soapy water as soon as you remove it. That will allow it time to soak while you are blowing the dust out from the heater.
5: Re-install the grill
Tech Tip: be sure the grill is completely dry before you re-install it. Any moisture that gets into the heater can damage the heater or be a safety hazard. Also, when replacing the screws, just screw them in snug, do not bury them to prevent stripping or damaging the grill.
After your heater has been cleaned you can turn the breaker back on. Turn the thermostat up until the heater comes on, letting it run for a few minutes. Make sure that it warms up normally and listen to make sure it sounds like it is running smoothly. Then set it back to the level you want it.
Following these simple steps will keep your heater running normally and keep you and your family warm when you need it most.
What is the best location for my heater?
When selecting the mounting location, it all comes down to your room layout, air circulation, furniture placement and how those things work in conjunction with heater clearance requirements and guidelines.
Here's a quick rundown of the best practices and things to avoid:
Fan heaters work best on an inside wall; baseboard are best under a window. (But you can install fan heaters on outside walls and baseboards on inside walls.)
If you're installing a heater by a door, make sure the heater isn't blocked by the door when it is open.
You cannot have an electrical outlet above or below the heater.
Baseboards and fan heaters cannot be blocked by furniture, bedding, drapes or anything else.
Allow 3 feet of clearance in front of a fan heater; 6 inches to the sides and 12 inches above the heater.
Allow 12 inches of clearance in front of a baseboard, 6 inches to the sides and 12 inches above the heater.
Product Selection
Tips: Selecting The Proper Unit Heater
The most common error of unit heater selection is installing a unit designed for low ceiling application on a high ceiling. In this application heat is unable to circulate properly to the floor – the result: unsatisfactory comfort or performance level.
For more tips visit here
Are 120-volt and 240-volt heaters compatible with both 120-volt and 240-volt circuits?
120-volt heater
Do not wire a 120-volt heater to a 240-volt circuit. The heater will try to deliver four times its rated wattage, causing it to overheat. This will permanently damage the heating element and also void the product warranty.
240-volt heater
We do not recommend wiring a 240-volt heater to a 120-volt circuit. The heater will be underpowered and will only receive 25% of the wattage it was designed to deliver.
How to size the heater circuit?
Information and Tips on how to size the heater circuit can be found by clicking HERE
Are King heaters actually made in Seattle, Washington?
Yes. Since 1958 we have made quality residential, commercial and industrial heating products in the same location.
Will my electric bill be lower if I use 120 volt heaters?
No. Same size 120 volt and 240 volt heaters will use the same amount of power, measured in watts or kilowatts. Your electric company charges by kilowatt hours.
How do I calculate BTU
BTUs measure energy and watts measure power.
A single watt converts to approximately 3.412 BTUs per hour. Simply multiple the total watts x 3.412 to calculate BTUs per hour.
For example:
1000 Watt Heater x 3.412 = 3,412 BTUs per hour.
How much does it cost to run my heater?
There are many variables to consider. What is the outside temperature? How warm do you want it to be inside your room? How large is the room? How well insulated are the walls? What kind of furniture is in the room? What is your local electric rate?
The easiest way to give you an idea of costs would be to provide the worse case scenario: How much it would cost if the heater was running constantly for an hour.
However, since your heater will be controlled by a thermostat it is very unlikely that it would run for an hour straight. Remember, this is worse case scenario.
Find out what you are paying your local electric company per kilowatt hour. For example, in Seattle, the average cost of a kilowatt hour is 9 cents per hour.
2. Locate the wattage of your heater based on the rating information printed on the heater. A common wattage for wall heaters is 1,500 watts
3. Apply the formula 1,500 ÷ 1,000 x $0.09 to determine the cost to run the heater for one hour. (Dividing by 1,000 changes watt hours to kilowatt hours.)
In this example, it will cost $0.135 if it was running for 1 hour straight. Or $3.24 to run for 24 hours straight.
Keep in mind, it's safe to assume that your heater will not be running constantly. Your thermostat will check the room temperature and if when it senses that the room has reached the set temperature, it will turn the heater off. It will remain off until the thermostat determines the room temperature fell below the set temperature.
Tip
As long as you know the wattage of any electrical heater, you can use this formula to find out the cost of using it per hour.
What Wattage Heater Do I Need? How do I do a Heat Loss Calculation.
Every house or living space is different. In order to heat a space efficiently, it is very important to the maintain room temperature using only the minimum amount of heat (wattage) necessary.
For electric heaters, the amount of heat is measured in watts.
To understand how many watts are needed, it is important to know how well your room is insulated. The more insulation, the less wattage is needed to effectively heat the space.
But with that said, you are going to need somewhere between 5-10 watts per square foot.
For homes built prior to 1980 with minimal insulation you typically need 10 watts/sqft
Home built after 1980 typically require 8 watts/sqft
And Home built within the last 10 years only require around 5 watts/sqft  because of increased insulation standards in building codes.
As a good rule to follow is : For Rooms with greater than average window space or high ceilings, increase wattage by 50%
So to calculate, determine the square footage of the room. Length x Width. And multiple that by the total watts per square foot needed. It's that simple.
So for example, if you have a 10 by 20 foot room it's going to be 200 square feet so for a new house that means you need a 1,000W heater. It's that simple.
Which heater should I buy, 120 or 240 volt?
One of the common questions that we get, is what voltage do I order? Do I order 120 volt or do I order 240 volt?
If this is a replacement heater, you're going to want to match the power supply that you already have.
The way that you can find out the voltage of the heater you currently have, is to look on the label that's on the heater assembly.
If this is a new installation, you can install either 120 volt or 240 volts. We recommend you first discuss with your electrician, but we do recommend 240 volts. One of the benefits of 240V is that it offers a higher maximum amperage in the circuit, so you can potentially add a heater onto the circuit later down the road.
Why you should consider an alCove Series Cove Heater when replacing a baseboard?
As technology in the Electric Heating industry has evolved, cover heaters were developed to take advantage of the benefits provided by baseboard heaters yet improves upon those principals to offer a more versatile and safer alternative. Today, alCove heaters have become a viable and practical alternative to traditional electric baseboard heaters.
alCove heaters provide warmth from above. A space-saving radiant heater that also produces convection heat by heating the air in similar ways as a baseboard. By combining the quick comfort of radiant heat along with the sustained warmth of convection heat, warm air is uniformly dispersed throughout the room.
Since alCove cover heaters are mounted near the ceiling, this saves valued space, eliminates furniture placement problems that is the typical head-ache of baseboard heaters. This also provides a safe alternative to baseboards, making cove heaters an ideal solution for daycare centers, or assisted living facilities where the heat generated from a baseboard heater can be dangerous to touch.
Traditional baseboard heaters are unsightly and protrude from the wall, taking up valuable wall space. Because alCove heaters are non-intrusive, tucked up high in a room in the alcove space, there is no concern of furniture, drapes or children coming in contact with the heating source. alCove allows complete freedom for decorating, while maintaining a comfortable room temperature.
Before you start, confirm the baseboard is on a dedicated circuit (alCove cove heaters requires a dedicated circuit). If the wattage of alCove heater(s) is greater than that of your baseboard heater, ensure the total load will not exceed breaker size.
Maintenance
Ghosting stains have been seen on interior wall surfaces?
Read this article for more information
Should I clean my heater?
Yes. Once a year you must clean and inspect your heaters. Please refer to the section "Taking Care of Your Heating System" on the previous page. You may request a copy of the operation & maintenance for your heater if you have lost it.
Thermostats
My thermostat is above my fan-heater. Why?
The fan heater blows warm air away from itself and into the room. By the time the warm air has recirculated and reached the thermostat above the heater, a comfortable room temperature has been achieved.
What's the difference between knob-style and electronic thermostats?
Many homeowners still us the knob-style mechanics thermostat that came with their house. While it does a decent job of keeping you comfortable, it doesn't necessarily do so as efficiently as possible, wasting your money.
Traditional Mechanical thermostats use a bi-metal control to approximate temperatures. When you set the thermostat to 65, the room might reach 65 but then continues to heat for an extended period of time, wasting energy. We call this a temperature swing.
Electronic thermostats use much more accurate electronic sensing. Set the stat to 65 and you get 65 and no more.
Over the course of the year, that makes a huge difference.
By staying at that constant temperature regularly will save you money.
Now consider the benefits of a Programmable Electronic Thermostat:
Upgrading to a fully programmable 7-day thermostat means you can create a schedule that follows your family's routine, and keeps the temperature warm while you're there, but eases up on the energy usage when you're not home. Simply put, you spend less time adjusting your thermostat and more time feeling comfortable, all while saving money.
Does turning my thermostat up all the way give me more heat?
Actually, that's not true.
Your heater runs at a specific wattage. Let's say you have a 1000W heater. Whether the thermostat is set to high or low, the heater always runs at 1000W.
When you set the thermostat to a higher Temperature, this simply means the thermostat will run longer until it reaches that higher set point.
Ideally, to save energy you would want to set the thermostat to the lowest temperature that makes your room feel comfortable. Then the thermostat will regulate the room temperature to stay at that comfort level.
Still need help?
We are here for you. Contact our Customer Support team and we will find the answer.