Shelter:  A proven stepping stone out of homelessness & into stability.
KING HAS COMMITTED TO PROVIDING AMERICAN COMFORT FOR OVER 60 YEARS
KING SUPPLIES ELECTRIC HEATERS TO PALLET SHELTER IN THEIR INNOVATIVE JOURNEY TO COMBAT HOMELESSNESS
After meeting with the team at Pallet, Dean Wilson, CEO of King Electric commented, "It is quite the honor to be able to contribute in some small way towards the goal of addressing the homelessness crisis across America. Being a family owned business who manufacturers our products right here in Seattle, we know first hand the importance of American jobs and how something as basic as a heated shelter can impact the lives of those in need. We appreciate this opportunity to supply Pallet in their journey towards ending homelessness."
Pallet is a social purpose company on a mission to build equal opportunity access to housing and employment. For the more than half a million people facing homelessness across the United States, their durable, portable, and affordable shelters are a stepping stone out of personal crisis and into a life of stability — because a shelter changes everything.
Pallet is building a company by investing in people, not profits. A company helping to create a world where all people, in all circumstances, have the shelter that meets the needs of their families and communities.
Prefabricated at Pallet's factory headquarters, the shelters are shipped on a wood pallet in seven panel pieces. Pallet's shelters are built in less than one hour with minimal tools. Outfitted with beds, climate control including comfort heating, safety features, electricity, and more, they're ready for resident move-in.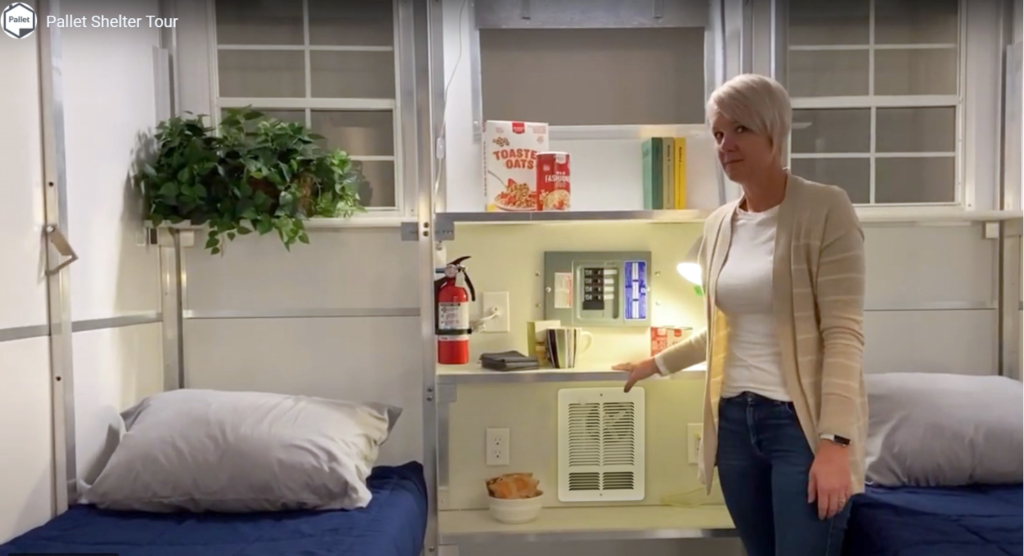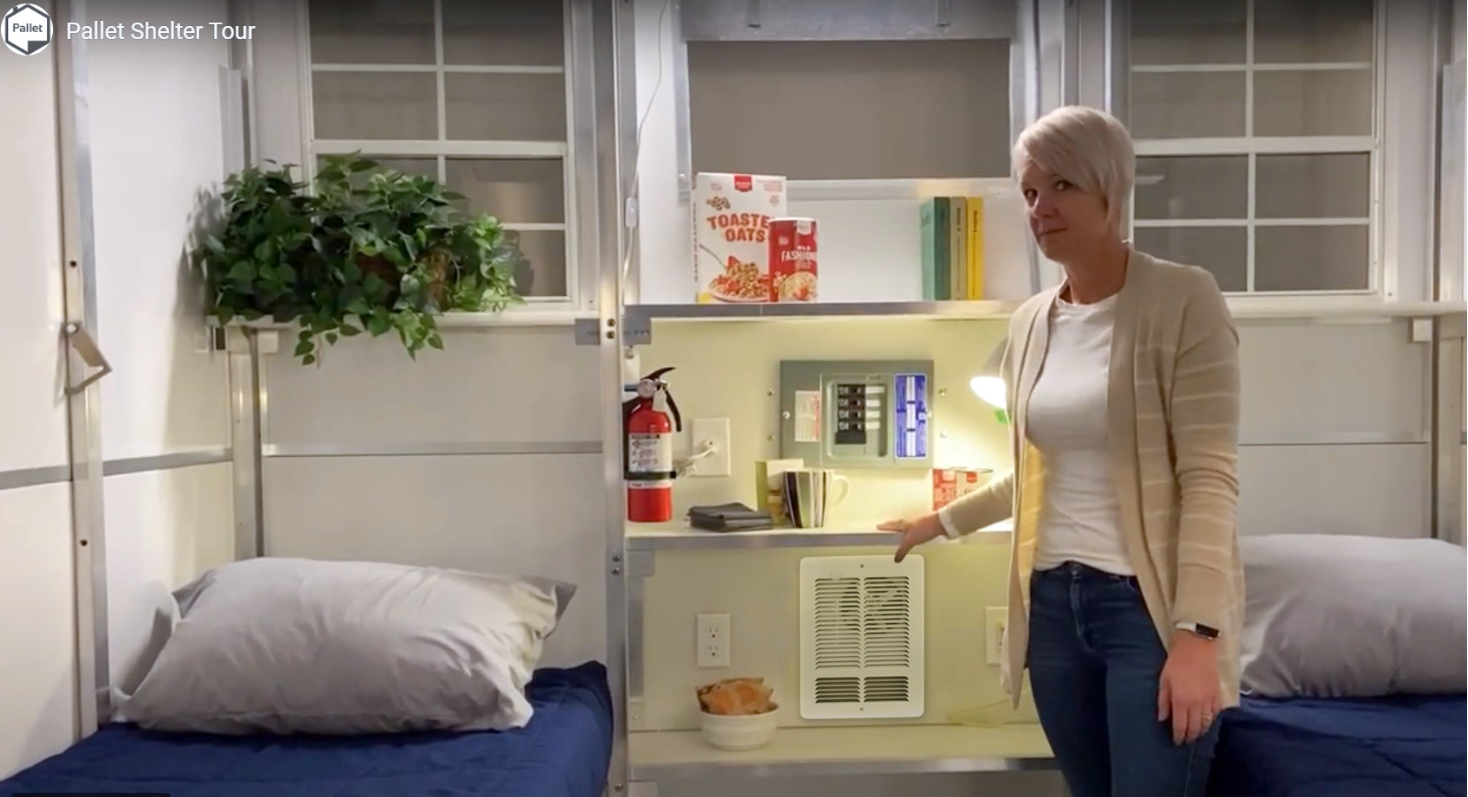 "Quite the impressive operation you have going there at King, and your focus on innovation is inspiring. I look forward to continuing our business together. "
Damon Wills – Supply Chain Manager
Pallet Shelter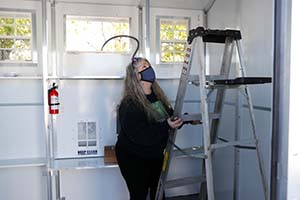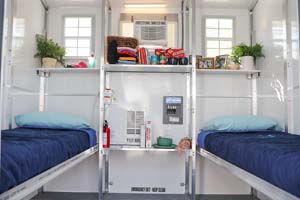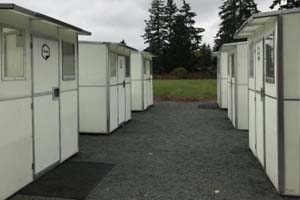 CASE STUDY: LOS GUILICOS VILLAGE
Sonoma County
One of California's largest homeless encampments, the Joe Rodota Trail in Sonoma County was "home" to more than 200 people facing homelessness — the largest encampment in the county's history. The encampment had grown dramatically over the course of 2019, with tents lining more than a mile of the popular bike trail in the heart of Santa Rosa.
As conditions on the trail worsened and the situation turned increasingly more dangerous for those living there, the Sonoma County Board of Supervisors acted quickly to turn a county parking lot into a temporary, emergency shelter community.
On January 10th, Sonoma County announced a plan to relocate people from the unsafe conditions on the trail to a sanctioned, stable, and managed site named Los Guilicos Village, equipped with shelter, case management, and other services.
The Los Guilicos Village site is made up of sixty personal shelters manufactured by Pallet, each providing security for those who were formerly living on the Joe Rodota Trail. Built of insulated composite with an aluminum frame, each 64 square foot shelter features a locking door for privacy and security, a bunk bed, shelves for storage, and windows. Each resident has a wall-mounted heater for personal climate control.
Called "Pallet" shelters because they're shipped on pallets, each panelized shelter arrived in seven pieces (the floor, four walls, and two roof panels) plus finishing elements such as shelves, bunk beds, and bolts. In less than an hour, each shelter is built with minimal tools required. Due to the shelter's structural aluminum floor, no site preparation is necessary as long as the ground is relatively level.
These shelters are intended to be used as a stepping stone out of homelessness, and act as "one piece of the puzzle" on the pathway toward reintegration into society.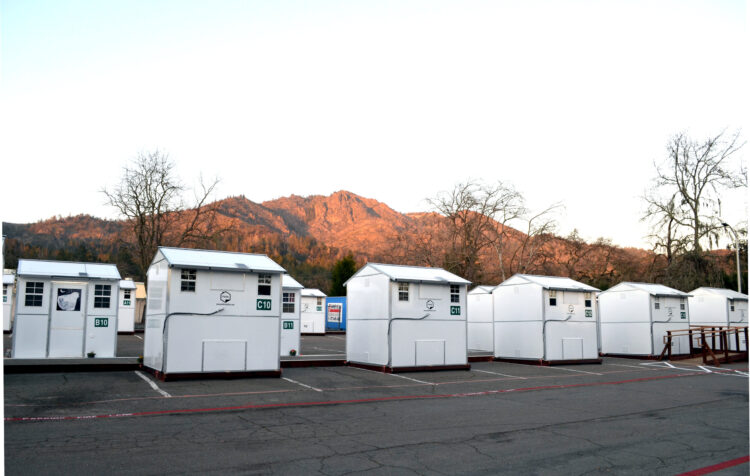 Los Guilicos Village, Sonoma County