Using King Electric Heaters to Supplement a Ductless Mini-Split in Cold Weather
While high-efficiency VRF heat pumps and ductless mini-splits have grown in popularity among homeowners to keep their families warm during the heating season, a major limitation is their lack of performance in subfreezing temperatures.
Because Heat pump mini-splits transfer heat into your home from outside air, they don't work well in temperatures below 30-45 degrees Fahrenheit. They can be easily overtasked when dealing with subfreezing temperatures, reducing the heat pumps' efficiency, the very thing that makes them so desirable. This causes them to produce less heat than the room requires, affecting the comfort of the room.
Installing a King electric heater for supplemental heating is one of the best ways to address this dilemma. The result is a far more efficiency in terms of the overall system's Heating Seasonal Performance Factor (HSPF).
The Balance Point
As the outdoor temperature drops, the heating requirement of the house increases and the output of the heat pump decreases.
The balance point is when the temperature of the room's heating requirement and the heat pump output match. Typically between 30-45 degrees Fahrenheit. For any temperatures below the balance point, supplemental heat will be required. To locate the balance point, the heating requirement (BTUs/h) of the house and the heat pump output (BTUs/h) are plotted against the changes in outside temperature. The place where the home heating requirement and heat pump output lines cross is the balance point.
Take a look at the graph of the Balance Point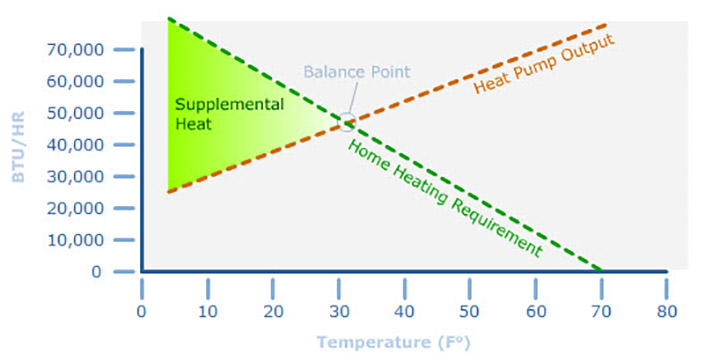 Before purchasing a ductless mini-split system, always discuss with your HVAC specialist or installer to calculate the room's Balance Point and recommend the appropriate sized heater to supplement the heat pump that is being recommended.
King Electric heaters are a great compliment to ductless heat pumps because they are far more economical, not to mention easier to install in auxiliary rooms, than additional ductless heat pumps.