The King Clear Air Mini Make-Up Air Unit is designed to "make up" the air in your interior space that has been removed due to process exhaust fans. The building ventilation and the make-up air system work together to ensure the building pressure is maintained,  while eliminating temperature fluctuations and a number of air quality issues. Clear Air Mini MAU  preheats the incoming fresh air at the lowest cost, thus continuously providing comfortable ventilation throughout the building. Featuring a backwards-curve centrifugal blower, the Clear Air Mini combines a fan driven fully modulating electric heating unit with a fresh air relay logic control circuit providing an extremely versatile all-in-one packaged unit.
It is designed to work with HVAC equipment to provide indoor air quality into a return side or supply side of the ductwork system or alternatively directly into the building space.

Packaged, All-In-One Make Up Air Solution
Tempered makeup air from 171 – 806 CFM @ 0.0" Static Pressure
2kW to 12kW Models
Proportional Thermostat For Fully Modulating Electric Heat
Wide Range of Air of CFM, Temperature Rise & Static Pressure Configurations
Available in 120V/208/240V - single phase
Included Duct Sensor For Precise Set Points
Automatic Damper Control
Current Transformer Technology For Full Interlock With Exhaust Systems
Relay Logic Control Circuit Enabling Control of Other Make-Up Air Components
(Damper, Exhaust Fans, Outside Thermostat & Humidistat, Etc).
Horizontal or Vertical Installation
Compact Footprint
Replaceable Air Filter (1" or 2" thick)
Shown with MAUFH Filter Housing (Required & Sold Separately)
Proudly Made in the USA with U.S. & Global Materials
3-Year Limited Warranty
Constant Comfortable Ventilation

Today's airtight homes and offices beg for fresh air. Stale and humid air must be replaced by fresh air. During winter, the incoming fresh air is at too low a temperature to be comfortable and the Clear Air Mini Make Up Air Series preheats the incoming air to your preset temperature.
Now That's Smart!
The Relay Logic Control Circuit Means It Is Easily Tailored To Any Application

Relay logic control circuit enabling control of other make-up air components (damper, exhaust fans, outside thermostat and humidistat, etc).
Now That's Smart!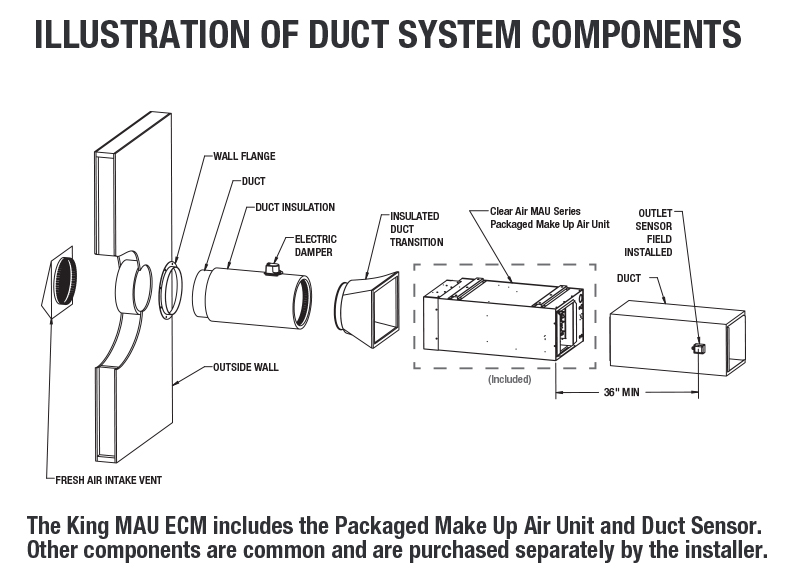 Engineering Specs
Engineering Specifications
Contractor shall furnish and install King Clear Air Mini Make-Up Air Unit manufactured by King Electrical Manufacturing.
Motor: Backwards-Curve Centrifugal Motor/Blower
Modulating Heat: 100% fully modulating heating control through Solid State Relay (SSR) technology. The SSR relays shall be mounted in the blower compartment to allow the free flow of incoming air to cool the heat sinks.
Thermostat: Clear Air shall be controlled by an electronic proportional thermostat using a 0 to 10VDC of 4 to 20ma signal. The inbuilt thermostat
can be removed and relocated to room and used as a wall mounted thermostat.
Duct Sensor: Clear Air shall be provided with a field installed duct sensor, type 2 NTC thermistor, 10K ohms.
Heating Elements: Assemblies shall be constructed of coiled Nickel Chromium alloy, corrosion-resistant wire strung through a minimum of four rows of mica insulator.
LV Terminal Block: All low voltage wires are terminated at a 14-point block with factory side quick connects and field side screw terminals.
Control Circuit: Clear Air shall have a relay logic control circuit providing a dedicated 24V power supply that is switched to activate external devices such as:
a damper, exhaust fan, etc.
Lockout Circuit: Clear Air shall have a lockout circuit for auxiliary devices such as an outside thermostat or humidistat to prevent the Clear Air system  from turning on
unless predetermined conditions are met.
Overcurrent Protection: Clear Air shall have a 24V high temperature limit circuit wired in series to protect each individual heating element. In addition, it shall have one electrically held manual limit monitoring the condition of entire unit. If tripped, this limit must be manually reset by shutting off the power, waiting several minutes and then turning the power back on. This provides an extra level of overheating protection to the unit.
Enclosure: Clear Air shall be constructed from 20GA electrogalvanized sheet metal of welded construction and finished with a corrosion resistant gray finished. Unpainted sheet steel is not acceptable. Access to the wiring compartment shall be from the side for easy wiring and maintenance. The unit shall have welded brackets with 6 – 3/8" weld nuts for sturdy mounting either vertically or horizontally. Provide both Line voltage and Low voltage knockouts to speed contractor installation. Provide knockouts for an optional disconnect.
Optional Disconnect: The unit shall have the option to mount an internal Supply Power Disconnect.
Approvals: UL: Clear Air shall be Underwriters Laboratory (UL) approved and labeled.