King refines comfort with the modern architectural design of the PX series ComfortCraft wall heater. The PX series heater delivers nearly 100% efficient electric heat, perfect for large living areas yet whisper quiet enough for bedrooms. The premium combination of an efficient high-mass steel element and whisper quiet squirrel cage blower, offers top of the class performance and years of trouble -free operation. Now Available in 4 design colors to match any decor: White Dove, Oiled Bronze, Satin Nickel and Almondine. King's exclusive Pic-A-Watt heating element allows customers to select from a range of wattage options, tailoring the heater to a room's specific heating requirements. Now That's Smart!

Modern Design That Redefines Comfort
Multiple Wattage Options, To Tailor To A Room's Specific Heating Requirements
Patented Smart Limit Protection®
Whisper Quiet Squirrel Cage Blower
Compatible With In-Built or Remote Thermostats
Zonal Heating Systems Save Money
Available in 4 New Designer Finishes
Proudly Made in the USA with U.S. & Global Materials
5-Year Limited Warranty

Product Features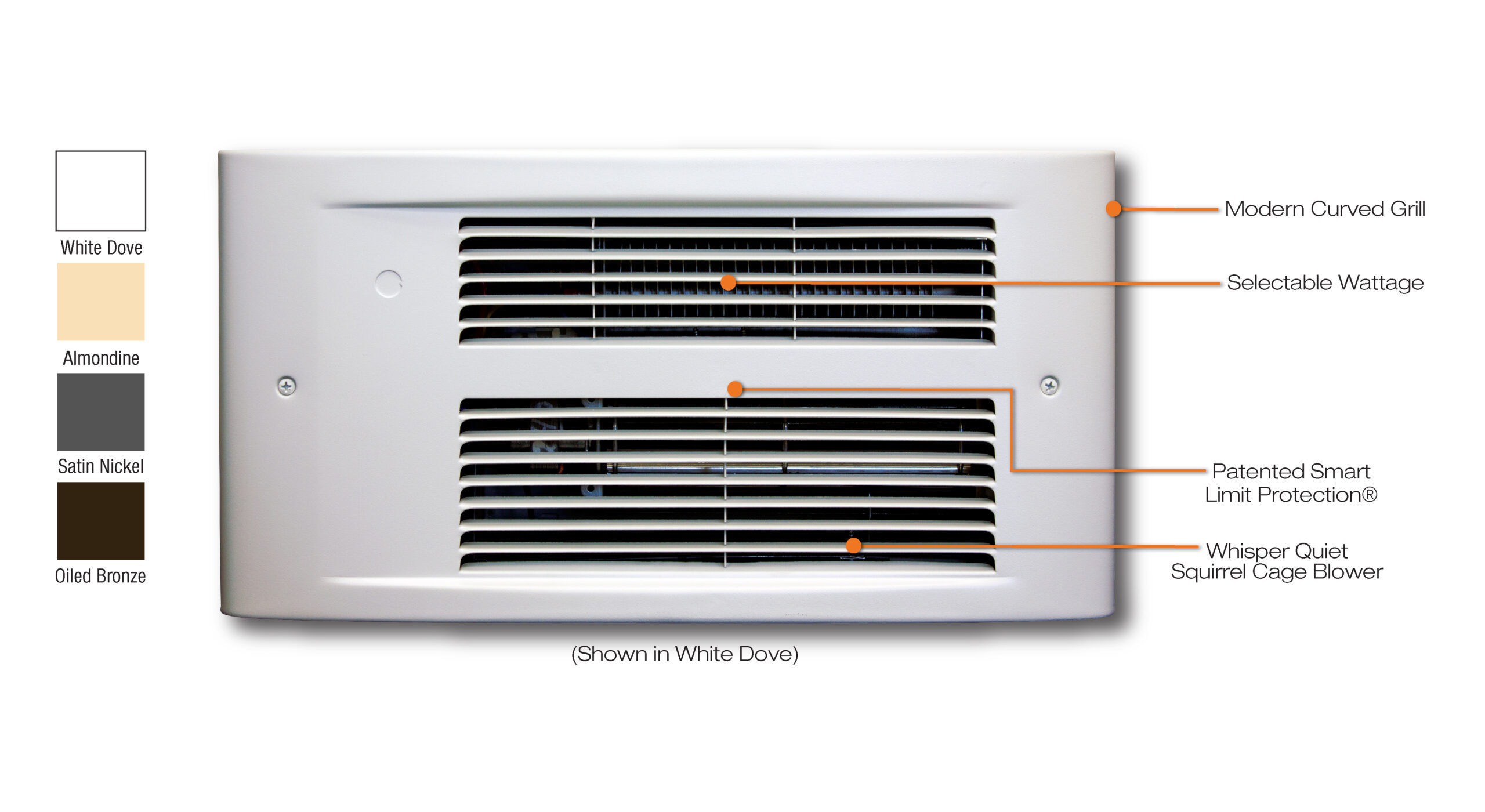 The Art of Comfort Heating

Inspired By The Architecture Around Us.
Featuring a modern architectural design and King's patented Smart Limit Protection®, PX ComfortCraft offers refined comfort for making Residential and Commercial spaces more comfortable.  King's exclusive Pic-A-Watt element, allow customers to select from a range of wattage options, tailoring the heater to an area's specific heating needs.
Now That's Smart!
Freedom of Color

You know what it feels like when you walk into a well-designed building. Combine colors, materials, lighting, and now even designer heating fixtures to achieve the ambiance that fits your building. Choose from one of our dynamic designer colors, inspired by the acrhitecture around us.
White Dove  –  Almondine  –  Satin Nickel  –  Oiled Bronze
The Original Pic-A-Watt Element® Multi-Wattage Element

King's exclusive Pic-A-Watt element means the heater can easily be tailored to a room's specific heating requirements. For smaller areas, choose a lower wattage to efficiently heat the room. For larger rooms, choose a higher wattage and maximize comfort. It's easy as unplugging a wire to select the wattage during installation.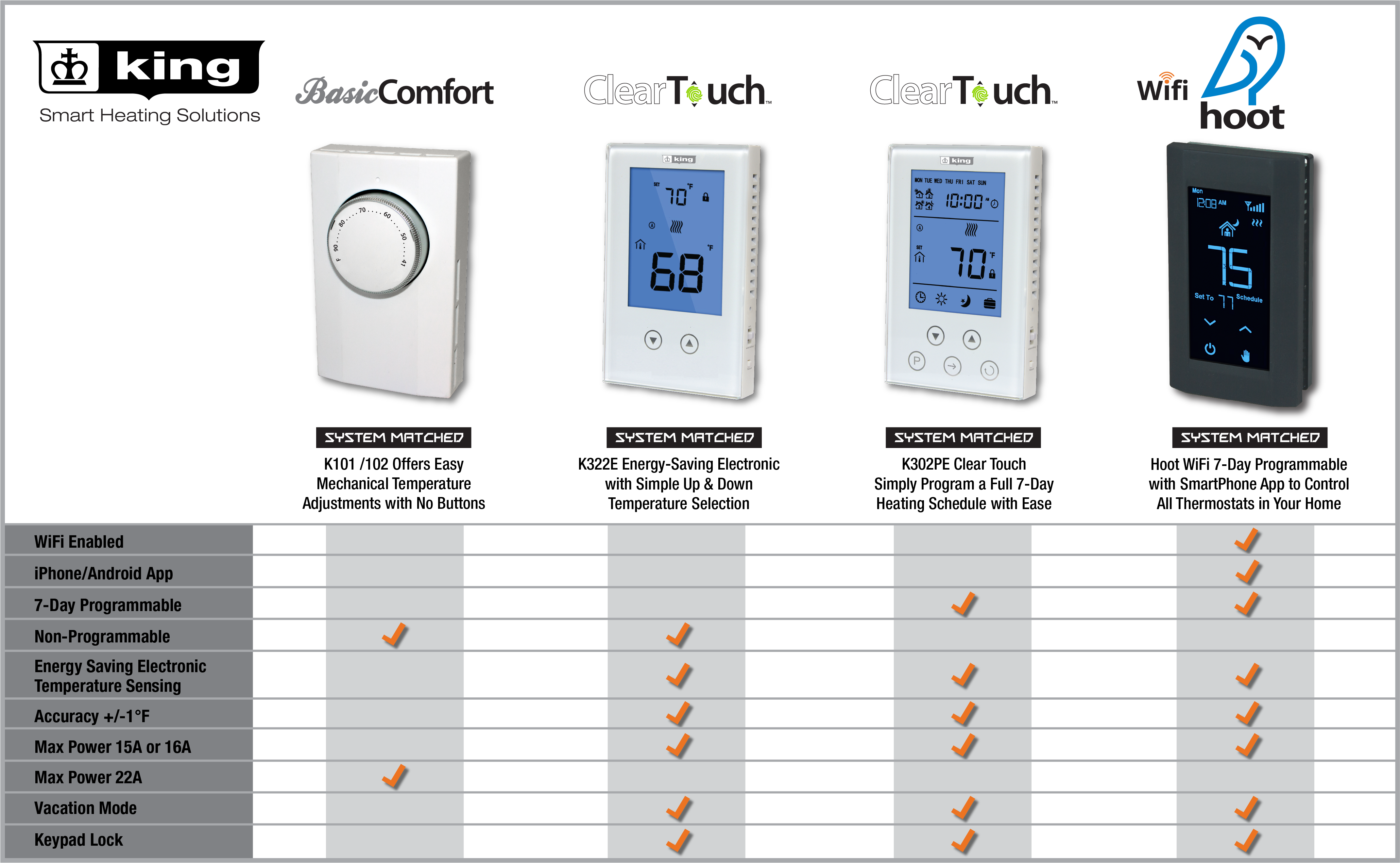 Engineering Specs
Contractor shall supply and install PX ComfortCraft Series in-wall forced-air electric heaters manufactured by King Electrical Mfg. Company, of the wattage and voltage as indicated on the plans.
Ratings: Heaters shall be available in wattages of 250 to 1,750 at 120 or 250-1750 at 208, or 240 Volts.
Blower and Motor: A whisper quiet tangential blower, delivering 75 CFM, shall be driven by a shaded pole, permanently lubricated, C-frame type motor with impedance protection and sealed bearings. Motors shall be the same voltage as the heater.
Elements: Element assemblies shall consist of three steel sheathed heating tubes in a furnace-brazed, plate-finned, block design. Each sheathed tube shall contain coiled Ni-Chrome wire embedded in an insulator of Magnesium Oxide. The element assembly shall provide up to seven (7) possible wattage configurations available for selection during field installation. The use of external resistors, diodes, or other weak links to obtain multiple wattages will not be acceptable.
Thermal Overload: Heaters shall be equipped with King's patented thermal overload Smart Limit Protection®, which disconnects elements and motor in the event normal operating temperatures are exceeded. If thermal overload trips due to abnormal operating temperatures, thermal overload shall remain open until manually reset by turning the heater off for 15 minutes. Automatic reset of thermal overloads, which allow the element to continue to cycle under abnormal conditions, will not be accepted.
Wall Cans: The wall can shall be 20 gauge electro-galvanized steel and shall contain a minimum of three (3) knockouts. The wall can shall have a factory installed, insulated and stranded copper ground-wire. Minimum 4"clearance to floors and 6"sidewalls. Zero clearance to combustibles.
Grill: The grill shall be a louvered, one-piece curved front design with rounded edges on all four sides, with duct flange on outlet to achieve maximum heat transfer. The grill shall be epoxy powder-coated in white dove, almondine, oiled bronze or satin nickel.
Approvals: cULus (E41422)